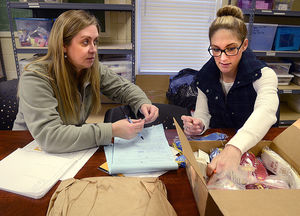 By DAPHNE CHEN
LENOIR, N.C.—Stacked to the roof with aquatic robots, DUI goggles and pig lungs, the curriculum room at Patterson Science Center is where "science" happens.It's here that director Amy Bradley and her staff invent the lessons that have brought 25,000 students to the center since it opened in 2012 and made it a stunning success.
"I think it's hands-on science," Bradley said. "And we incorporate engineering into everything we do, so I really think it engaged the students in learning and they took an interest and they look forward to coming here."
The center was the vision of Superintendent Steve Stone, who wanted to enhance STEAM education — the 'A' stands for 'agriculture' in this case — in Caldwell County schools.
"The industries in Caldwell County are changing," Stone said. "They tell us we need more kids in robotics, more kids in tech."
The PSC campus, nestled in the foothills of Yadkin Valley, once housed a boarding school. But it closed in 2009, after years of dwindling interest.
"We're sitting on 1,400 acres of pristine land, so the school board wanted to create a unique opportunity for our kids, something that's uniquely ours," Stone said.
He hired Bradley, a former Hibriten High School science teacher with three master's degrees and a knack for writing grants, to lead the center.
Bradley envisioned it as a place where students could learn about science, nature and technology in a hands-on environment, and where creativity and science were integrated, rather than at odds.
"We wanted it to be more than just a field trip," Bradley said.
But she also wanted to make sure lessons were aligned with state and federal science standards.
So, first she wrote curriculum.
Now, with the center now halfway through its third year, Bradley has written 33 lesson modules for grades K-12, raised almost a million dollars in grants and runs a top-notch STEM learning center that is drawing students from every neighboring district.
With a full-time staff of three — plus volunteers — the center runs class visits, community outreach events and summer camps throughout the year.
Students have learned how to build water bottle rockets, program robots to escape a labyrinth, conduct forensic investigations, and even get a certification in organic farming and sustainability. They stargaze at night with lecturers from UNC's Morehead Planetarium and attend classes on 3D printing, receiving free Raspberry Pi microcomputers.
The ability to see science hands-on is what amazed Early College junior Hannah Smart, who attended the Science Expo on Dec. 10.
"We're creating a Rube Goldberg machine, so our goal is to safely transfer an egg by whatever means into this cup," Smart said, showing off an egg perched perilously above her head, and pointing to the sling they had built for it on the floor (made out of pipe cleaners).
"I love doing this, working with all of my classmates," Smart said.
Bradley estimates 95 percent of the center is funded through grants and private donations. Among these are a $37,000 grant awarded by Google and a $500,000 federal Math-Science Partnership grant.
"We want the students to like science and have fun and want to be scientists when they grow up, so I don't want them to be hindered by the cost," Bradley said.
And the hard work Bradley and her team put into the center is beginning to pay off.
Last year, they concentrated on fifth- and eighth-graders, bringing 14 classrooms to the center 5-6 times throughout the school year.
By the end of the year, their test scores increased by 20 to 40 points.
"We are proud. We're really excited," Bradley said. "That gave us a boost in the clientele."
Bradley hopes to add more programming for high school students. And she and Stone are looking at taking over the old dormitory building on the campus, which will give them the ability to plan overnight trips and professional development events.
Until then, she's happy knowing she's working her "dream job."
"The most rewarding part is that you see kids smile every day and have that 'aha' moment," Bradley said. "Then, you encounter them in the grocery store or Walmart and they come up to you and hug you and say, 'I can't wait to come back to Patterson Science Center!'"